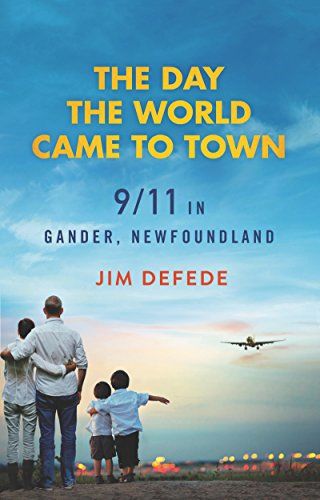 Today I'm launching my first installation of Friday Fun Facts. It's a concept my son's fifth-grade teacher uses. At the end of each week, she offers each student a chance to share one remarkable fact. This activity captivates children and adults.
My first fact hails from Jim DeFede's book, The Day the World Came to Town: 9/11 in Gander, Newfoundland. When U.S. airspace was closed after the terrorist attacks of Sept. 11, 2001, flights headed to North America from the east were diverted to Canada. Thousands of passengers from across the globe were redirected. Their lives put on hold, the passengers learned to make the best of it.
For those in Gander, many forged lasting friendships and connections. It's easy to see why, after reading DeFede's book. Gander natives opened their homes and hearts to strangers, caring for them like family. They thought of everything, from attending the terrified animals on the stranded aircraft, including an epileptic cat—who technically weren't allowed to vacate the bellies of the planes—to scaring up kosher food for a rabbi from London, to filling prescriptions.
Many passengers had packed medication into their checked luggage, all of which had to remain stowed on the planes. Most didn't have their prescriptions with them, so Gander pharmacist Kevin O'Brien called each person's hometown pharmacy and had each one refilled.
Herein lies my Friday fact:
During one stretch, O'Brien and his wife, Rhonda, worked forty-two hours straight, making calls to a dozen different countries."
All prescriptions were filled at no cost to the passengers.
I've never worked for almost two days straight, without sleep, for free. I didn't even stay up that long when I gave birth to my children.
If you're looking for something to read that displays humanity at its best, check out The Day the World Came to Town.