Ten years ago today we lost my brother Jim. At forty-seven, he was in his prime. I lament the unfinished promise of his life, and all that it held for his two sons. I mourn for my sister's children and my own, for all they lost in him, a shining example of an uncle and friend.
In honor and remembrance, I'm sharing below the full excerpt of an essay I wrote about Jim for my second book, When Losses Become Legacies: Memoirs on Grief, God, and Glory. It'll be up for a month. After that, you can buy the book—and read more essays by my co-author, Christy, and me.
************
I stood in the middle of the Louvre, startled to silence by a piece of art. It wasn't the Mona Lisa, Winged Victory, or Marriage at Cana. It was a postcard print of Albrecht Dürer's drawing, Praying Hands, in the museum shop.
Shadowy, rugged, and strong, the hands float in a gray wash on blue paper. My mom, who died of breast cancer almost a decade before, sported a Praying Hands lapel-pin as far back as my memory stretched. Her gravestone is etched with a replica of the hands.
I didn't know they were Dürer's work until I went to Europe in the late 1990s. I bought the print and stashed it in my postcard collection. Stowed away in a small box, it laid there for the next fifteen years.
The summer my brother, Jim, sank into a suicidal sea, I remembered the Praying Hands. I decked them in a dark-wood frame and gave them to Jim during our last weekend together. My sister and I had flown to see him, and he promised he would make no more attempts on his life. There had been at least ten.
Later that week, he sent me a picture of the print standing on his desk.
"It reminds me to pray," he said. "Thank you."
Those dark days were some of our closest as siblings and friends. My sister and I believed his will to live would help him untangle from the snares of depression. As summer wore on, he appeared to make good progress.
But within a month of our weekend visit, he was gone.
Prayer's Mysterious Power
Jim was forty-seven when we lost him.
As time passed, I thought about the Praying Hands, but I didn't seek to reclaim them. To my surprise, they found me anyway. They hang now in my home, hugged by their careworn frame.
My mom died when she was forty-six and I was fifteen. Back then, I thought she was old. Now that I'm older than she lived to be, I know she was young.
I prayed for her to be spared. Though she wasn't, I continued to pray. I don't know why. Faith is equal parts mystery, diligence, and discovery.
When people leave this earth in the prime of their lives, as my mom and my brother did, it complicates the grieving process. How did my prayers on their behalf enter the mix?
The Christian scriptures' references to prayer, like one in Revelation, bring comfort. Author Philip Yancey explains it well:
In a scene recorded in the book of Revelation the apostle John foresees a direct linkage between the visible and the invisible worlds. At a climactic moment in history, heaven is quiet. Seven angels stand with seven trumpets, waiting, for about the space of half an hour. Silence reigns, as if all heaven is listening on tiptoe. And then an angel collects the prayers of God's people on earth—all the accumulated prayers of outrage, praise, lament, abandonment, despair, petition—mixes them with incense, and presents them before the throne of God. The silence finally breaks when the fragrant prayers are hurled down to earth: 'and there came peals of thunder, rumblings, flashes of lightning and an earthquake.' 'The message is clear,' comments Walter Wink about that scene, 'history belongs to the intercessors, who believe the future into being.' The pray-ers are essential agents in the final victory over evil, suffering, and death.
Unexpected Answers
I believe God considers every care we send him. But his methods sometimes disrupt the rhythms of our lives. They are opaque—frightening, even—much as total solar eclipses once were for ancient cultures. Bumbling blind through a blackout, we long for the sun to come pouring out of the sky, to light life's way.
Yet God is not time-bound. To him, our lives are books he knows by heart. He sees how everything will work out.
We are kept by time and its limits, understanding our stories only once we've lived them. Some chapters are unpredictable and scary.
If we had a chance to gaze through a window overlooking the future, we might shudder at the sights. We would try to avoid the bends in our happy roads. But the best stories boast tension-building twists and unusual turns. Those stories develop character.
God is after sculpting us into people of steadfast character. He created us in his image. Bearing his likeness brings pain. It forces us to get comfortable with the uncomfortable. At times, faith in Christ feels dangerous.
Believing through it all, despite it all, because of it all—that's hard. Unbelief is easier.
When I reflect on losing half of my original family too soon, I can sink into self-pity. All the grief and loss seem unfair.
I was powerless as I watched my mom decline, in part because I was a child. Even as an adult, when I tried to help Jim, I couldn't prevent him from ending his life. Where is God in all of this?
A few times, I've snagged glimpses of him. My encounters with the Praying Hands were one of those rare sightings.
Dürer's original drawing resides in The Albertina Museum in Vienna. It was not on exhibit at the Louvre in the late 1990s, when I was there. Museums don't often sell prints of art unless the original is on display in a gallery. The chance I would land on it that day in the Louvre's museum shop was remote.
That it returned to me was unlikely, too.
For me, these are the whisperings of Christ. Subtle cues that he is around, even when the tragic comes to stay. Especially then.
Following Christ does not guarantee freedom from loss, pain, or adversity. What is guaranteed is his presence, through the constancy of the Holy Spirit.
Tragedy has the power to drive us toward despair or deeper into our faith. Our hearts harden. We become bitter. Or we grow from our blows, discovering how they fit into God's purpose for our lives.
The twin tragedies of losing my mother and my brother have changed me. Every day, I wish they were still here. But I have drawn strength from their lives and from their deaths. I see their short existences as animated exclamations, dancing across the page and affirming what's important.
My mom chased her faith and followed Christ at any cost. My brother was faithful to his family and friends, even at his lowest. They both set remarkable examples of living out their faith and loving with abandon. These impressions have left indelible marks on me, like the strong, deep grooves of a canyon.
Strength: I didn't pray for it, but I have received it. It is one of God's answers to my prayers—even if it wasn't the answer I expected.
Covenant Hands
Dürer's Praying Hands are one of the world's most well-known pieces of art. Whose hands are they?
Art historians might say they belong to the artist himself, resembling the hands in Dürer's self-portraits. They could point out that the hands were a study for an apostle in an altarpiece, or that Dürer meant them to showcase his talents to clients.
Whatever its earthly origins, the drawing, like any master work of art, beckons us to contemplate something bigger. Part human, part divine, the hands are a mysterious bridge from this world into the next, like the act of prayer itself.
In their humanity, they remind us of Christ, our suffering soulmate. We pray to be spared pain, as Jesus did in Matthew 26:39: "My Father, if it is possible, may this cup be taken from me. Yet not as I will, but as you will." I doubt Jesus expected he would be spared. He prayed anyway.
In their divinity, the hands remind us of our Savior, who defeated death. His is the original—and only—supernatural power.
The Praying Hands, in all their simplicity, symbolize the redemptive arc of Christ's life, death, and resurrection—an arc long and wide enough to reach anyone who dares to believe in it. If we do, we become adoptees into the realm of the Messiah's superpower.
Dürer's hands extend an opportunity to rise with our struggles in tow, and grab hold of the redemptive arc. When we do, we join the arc's eternal story. Within that story, we find strength to overcome our trials and anchor the roots of our belief, no matter the landscape of our lives.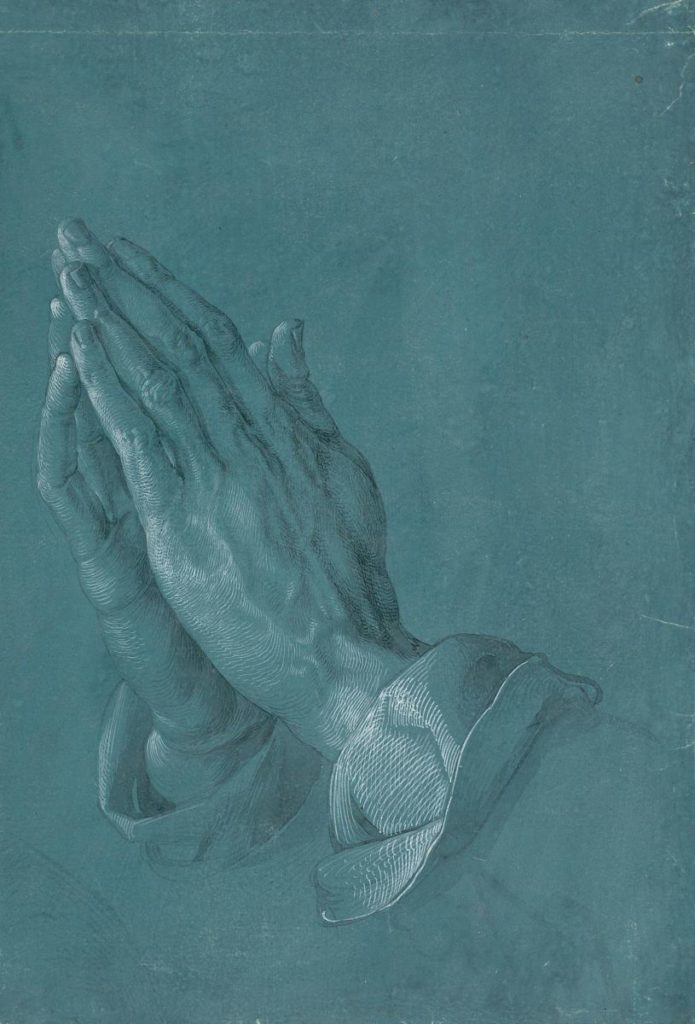 Albrecht Dürer's Praying Hands; The Albertina Museum, Vienna
If you're struggling with suicidal thoughts, please ask for help. If you can't share them with close friends, family, or a therapist, call the National Suicide Prevention Lifeline at 1-800-273-8255.
***